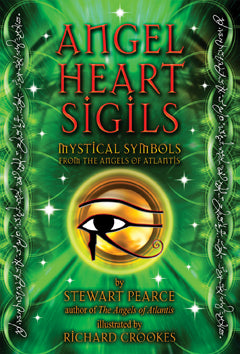 Stewart Pearse
The twelve Angels of Atlantis have given us their Angel Heart Sigils. This means that in using the sigils, in rhythm with the Galactic Heart Chakra opening, we may feel our love amplified by their immense intimacy - full of intense compassion and blazing unconditional love – for these Angels love for the sake of love. They emerge to do God's bidding as Orbs of flaming plasma. They are messengers of the Divine, they are the harbingers of the greatest glory, sent to Earth to help us shimmer in the passionate vibration of human love – pure, strong and especially wise.

Sigils are seals and, like the Talisman of the fabled Grimoire, they bring about great magic. In this Oracle, their kindled intelligence will utterly transform your life. For when we feel that we are not in touch with the Source, even though we are extensions of Source energy, we may bathe in their teachings and feel our lives changed forever.

As in the days of Atlantis, drawing just one card or two or three will utterly shift your perspective, providing you with a feeling of sustainable joy and well being. Therefore, please place in your heart the knowledge that the Archangels will always ensure you choose the aspects that are most significant for your learning and evolution, as they graciously hold you in love and light.
Contains 44 full colour cards.