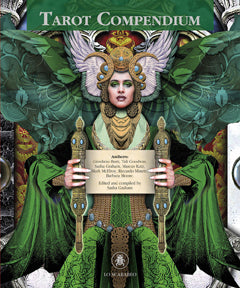 TAROT COMPENDIUM is the third and final volume in the Lo Scarabeo 'Tarot Encyclopaedia project. While the first volume, Tarot Fundamentals, was more about the general principles and basic knowledge of the Tarot and the main focus of the second volume, Tarot Experience, can be summarised as: 'Tarot and You,' TAROT COMPENDIUM guides the reader towards more advanced content.
TAROT COMPENDIUM is the book in which all the esoteric and other information is compiled. Need the astrological association of the Page of Wands? Curious about how Kabbalah relates to the Tarot deck? Itching to take a peek at the Esoteric Functions of the cards? How are the Four Mediaeval Humours associated with Tarot? All of this will be in TAROT COMPENDIUM.
Lavishly illustrated in full colour, this guide to the Tarot is set to join the other two volumes as the reference work on this divination system.