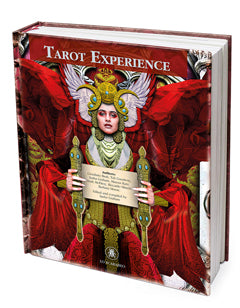 Sasha Graham, Barbara Moore, Mark McElroy, Marcus Katz, Tali Goodwin, Lunea Weatherstone, Giordano Berti and Riccardo Minetti
TAROT EXPERIENCE is the second volume in the Lo Scarabeo 'Tarot Encyclopaedia' project. While the first volume, Tarot Fundamentals, was more about the general principles and basic knowledge of the Tarot, the main focus of TAROT EXPERIENCE can be summarised as: 'Tarot and You.'

The book is full of practical suggestions, spread guides and reading advice from some of the most prominent Tarot professionals around. Building on the base established by Tarot Fundamentals, TAROT EXPERIENCE will guide readers towards more advanced contents.

Lavishly illustrated in full colour, this guide to the Tarot is set to join Tarot Fundamentals as the reference work on this divination system.