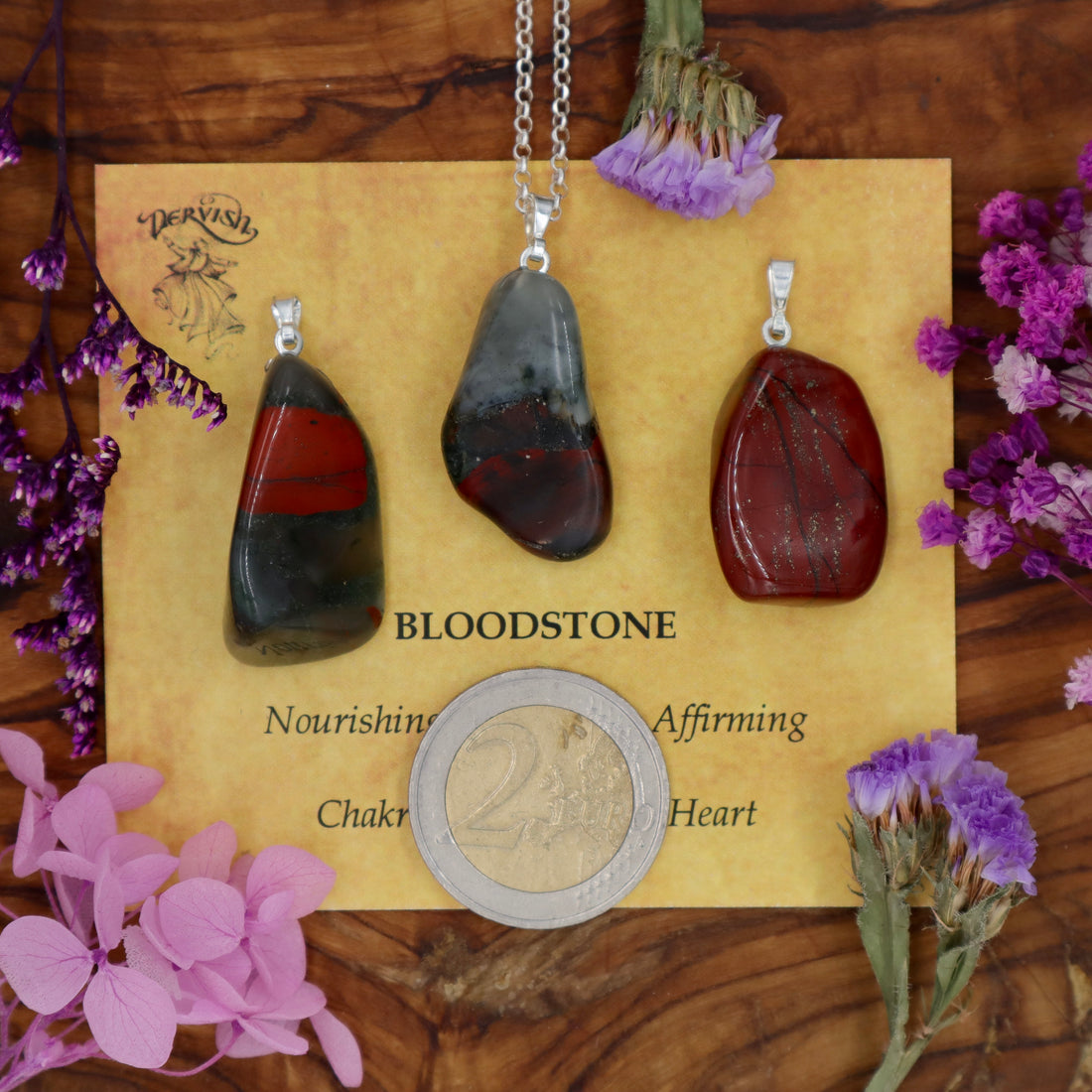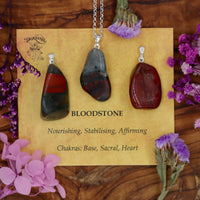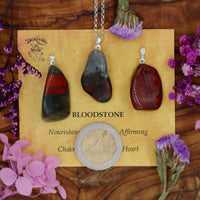 Bloodstone Tumblestone Pendant With Metal Loop
Nourishing, Stabilising, Affirming
Chakra: Base, Sacral, Heart
Birthstone: Aries
Hardness: 6.5 - 7
Composition: Silicon dioxide
Formula: SiO2 
Colour: Dark Green and Blood Red
Oils/Herbs: Basil, Cinnamon, Ginger
Also known as Heliotrope (Greek for 'Sun Turner) this is an opaque form of Chalcedony. Sometimes it is given the name of Blood Jasper but it isn't a Jasper at all. The colour is caused by particles of Chlorite (green) and Iron Oxide (red). 
There is also a form of African Bloodstone called Seftonite which is formed in the same way and carries similar qualities but it contains more Iron and thus has a greater proportion of Red colouring
Metaphysical & Healing Properties

A great purifying stone it is known as the Stone of Noble Sacrifice and has a strong association with Christ (the red spots were thought to represent Christ's blood). The iron content will extend this purifying capacity particularly to the blood.
Bloodstone is also known for its strength giving and confidence boosting qualities and provides for stamina and endurance, bringing vitality to the physical body and clarity to the mind.
It is a grounding stone, facilitating the integration of the Root Chakra with Earth.
Harmonizes/Combines with 
History 

The blood-red spots have been identified with Christ's blood  making this a special stone within the Christian historical tradition and it was the stone used for carving scenes from the crucifixion.
It was often used in men's rings and other aesthetic items as seals such as the famous Ring seal of the German Emperor Rudolf II (currently housed at the Louvre museum in Paris).
Disclaimer
Crystal properties are listed for information purposes only and are not intended to replace medical advice. Always consult a physician for proper medical treatment.