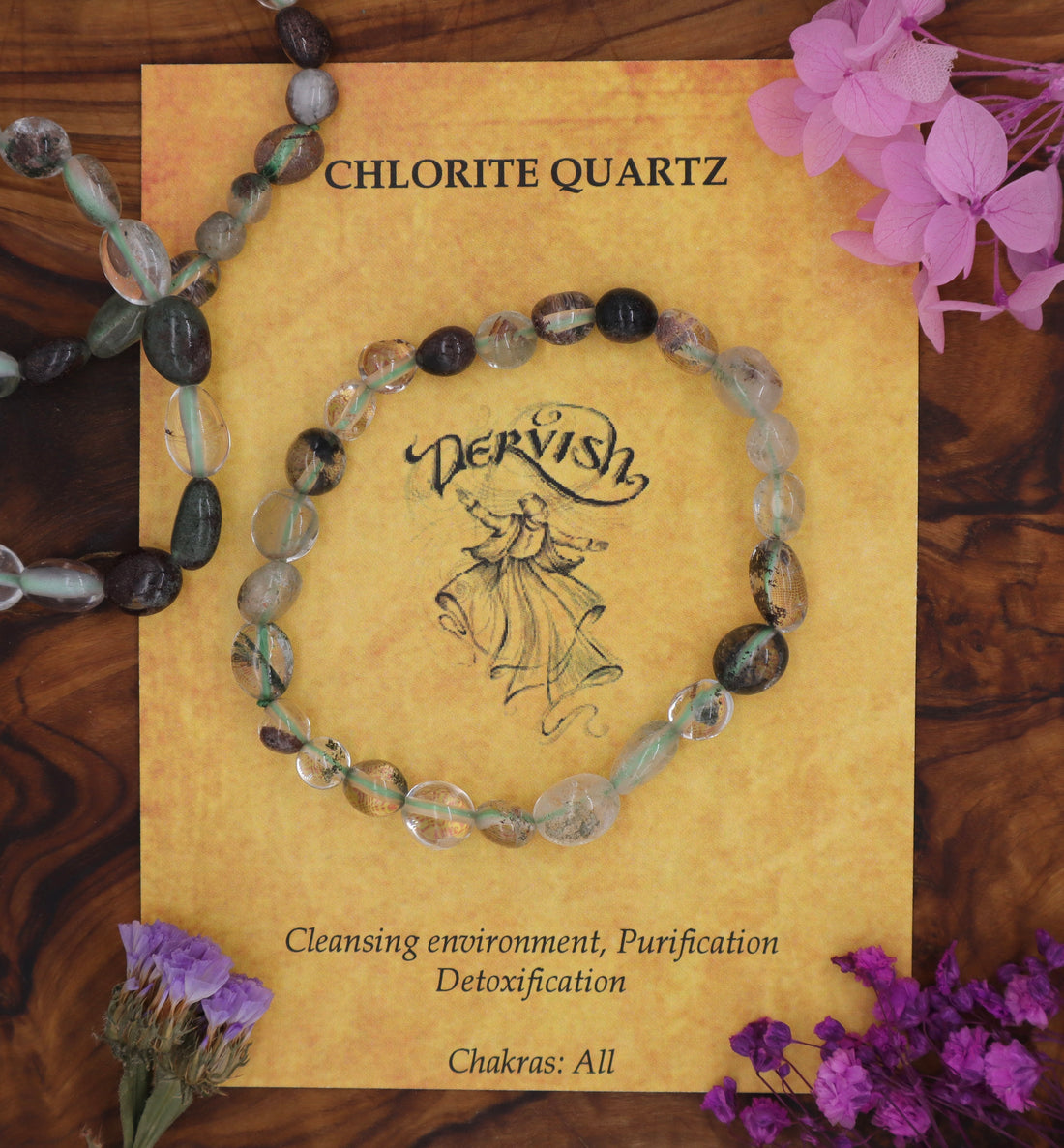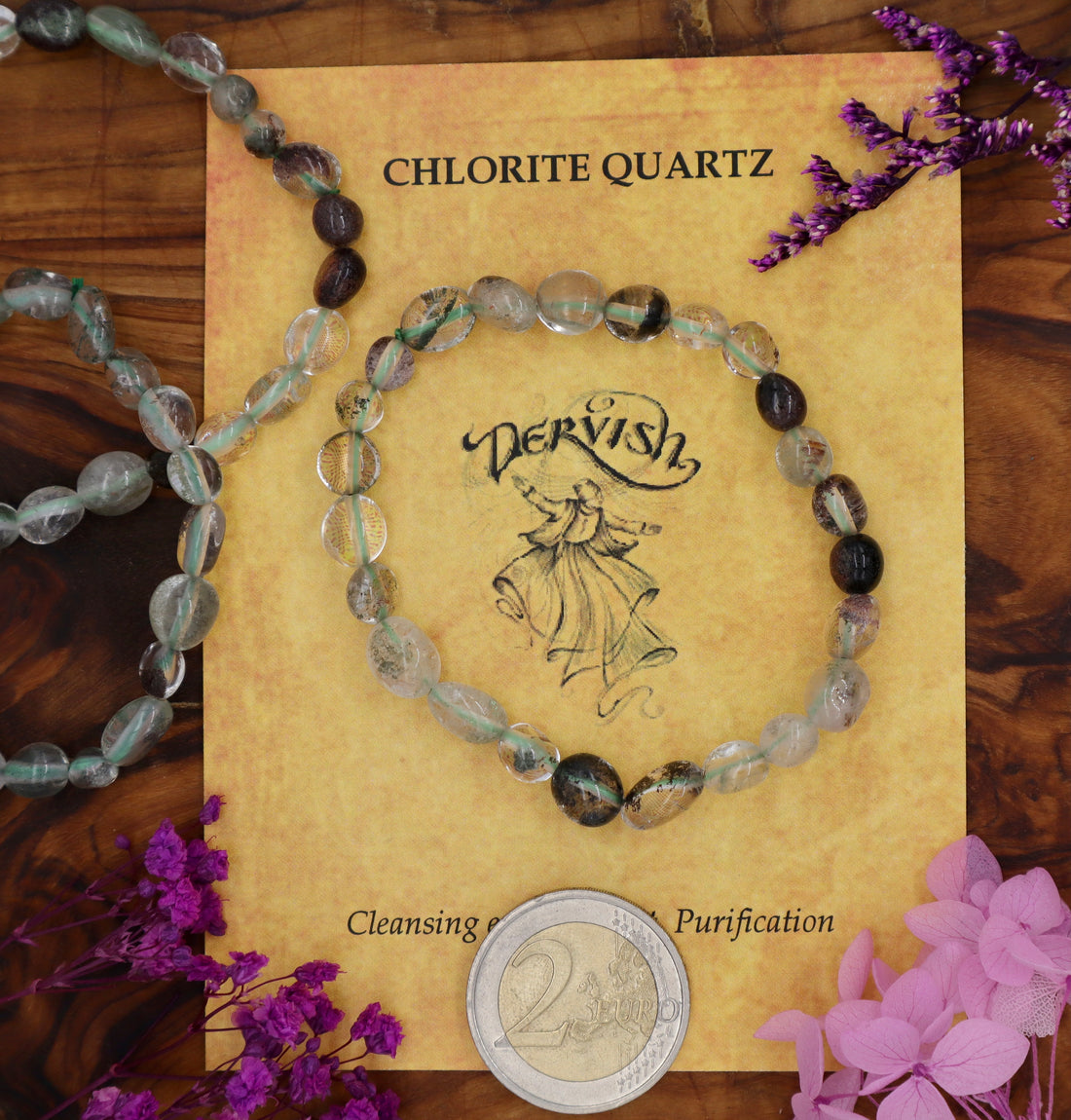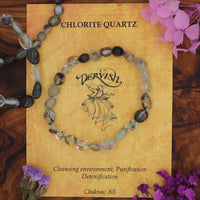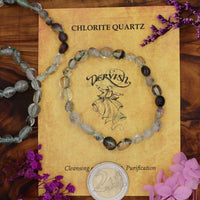 Chlorite Quartz Bracelet (Free Form)
Cleansing environment, Purification, Detoxification
Chakras: All (Heart and Third Eye)
Birthstone: Sagittarius

Hardness: 7

Composition: Quartz
Formula: (Mg,Fe)3(Si,Al)4O10 (OH)2·(Mg,Fe)3(OH)6
Colour: Green Chlorite enclosed in transparent Quartz
Other Descriptions:
The meaning of the name Chlorite Quartz is related to these crystals being formed from normal  quartz crystal that has inclusions of chlorite embodied within it.
The chlorite may be on top of, or close to the surface of the stone, but is commonly found deep within the crystal.
While many of these crystals are green not all of them are. You may not be aware of the fact that chlorite can be both green and red.
Metaphysical Healing Properties

Chlorite Quartz is a powerful energy cleanser.  It can be used to purify the energy in our aura, chakras, and all meridians assisting us in achieving better health.  It assists in removing energy blocks which result in stagnation.   It can help us to connect with our healing guides and healing power.  It  encourages us to act wisely with discernment. Chlorite Quartz reminds us that all life is sacred and brings about a deeper connection with all realms.  Chlorite Quartz inspires us to find ways to connect more with nature and the device realm. Also known as the Shaman Quartz. Also helpful to use during meditation, stimulating psychic powers. One of the more powerful metaphysical properties of stones containing chlorite relates to how they assist you to vibrate at a similar vibration as the Schumann resonance, the electromagnetic field of the earth. This can help you to deal with low frequency computer and wifi radiation, however be careful not to use them near devices as they may amplify emanations.
Harmonizes /Combines with: Moss Agate, Green Kyanite, Fuchsite, Prasiolite

History: Chlorite Quartz is a relatively new crystal to the metaphysical world.  As such, it is not included in any of the older texts that describe gemstones and their powers.  

The name Chlorite comes from the Greek work chloros meaning "green".  It is group of 15 closely-related phyllosilicate minerals most of which have an attractive green colour and which are very soft and easily carved.  Mankind has been carving Chlorite minerals for many millennia.  Chlorite has been used to make decorative and religious sculptures, housewares items, stamps, beads and jewellery.  It was also used to create moulds for working with bronze and copper.   

The oldest known Chlorite sculpture can be found among the "Venus Figures" which were discovered in the Balzi Rossi caves in Italy in the 19th century.  These prehistoric female figurines are thought to be between 24,000 and 19,000 years old.  Chlorite sculptures that depict human figurines have been in many localities around the world, but are especially prominent in Central Asia and Iran. 

Disclaimer: Crystal properties are listed for information purposes only and are not intended to replace medical advice. Always consult a physician for proper medical treatment.