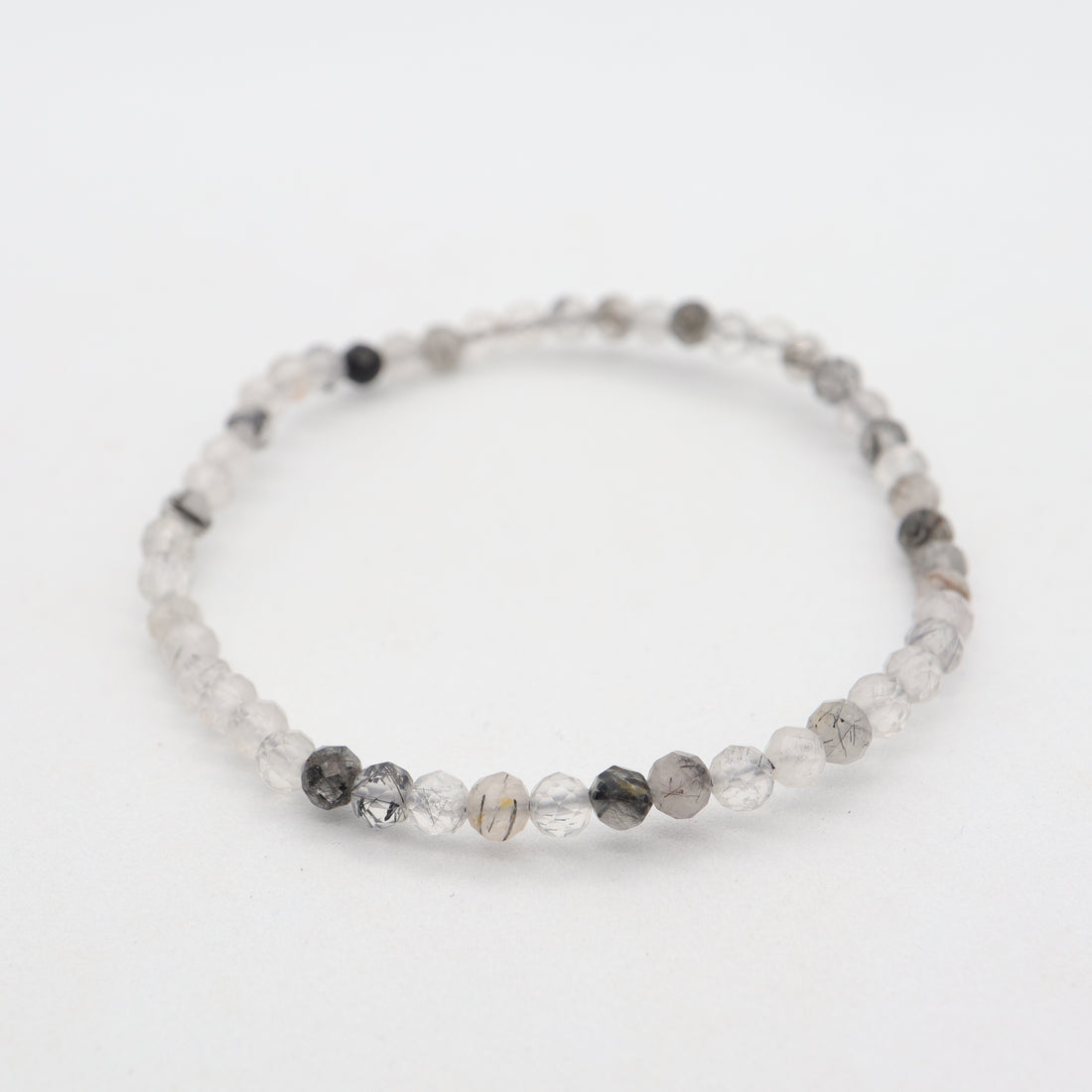 Tourmaline Quartz Faceted Bracelet - 4mm
Tourmaline Quartz:
Purification, Regeneration, Balance of Male and Female energies.
Chakras: All

Birthstone: Libra, Scorpio

Origin: Brazil

Colour: Mostly clear quartz (can be cloudy) with black tourmaline inclusions (sometimes green tourmaline inclusions)
Oils/Herbs: Cypress, juniper, mugwort, rosewood and wintergreen
Other Descriptions:

Tourmaline Quartz, also known as Tourmalinated Quartz, is a variety of Clear Quartz with naturally occurring needle-like inclusions of Black Tourmaline, also known as Schorl.
Metaphysical Healing Properties
If you're looking for a complete aura cleanse, then with the help of the powers of Tourmaline and Quartz, be prepared for a complete auric blast from bottom to top. Remember that once you've spring cleaned your energetics, you are required to put in the conscious work to maintain your energetic field, much like you would maintain the cleaning of your house when you have vacuumed! This fresh blast of clear light will open your mind to clear thoughts and create a 'liquid crystalline' bubble of light around your energy bodies. Quartz has the ability to be programmable and with the resonance of the black tourmaline amplified by the Quartz, the effect of keeping the auric field pure and cleansed can be transmitted through into the physical body. 
Harmonizes /Combines with:

Citrine, Black Obsidian, Charoite, Moldavite, Sugilite, Boji Stone or Jet
History:

The earliest use of tourmalinated quartz was for tools made by hominds in Ethiopia over 2 million years ago.
Disclaimer: Crystal properties are listed for information purposes only and are not intended to replace medical advice. Always consult a physician for proper medical treatment.